Diane Rwigara asks to postpone the interview. "My personal adviser is missing," explains the text message. This is the new normal for Rwigara, who was until recently a loyal scion of Rwanda's ruling elite.
Since the death of her father in 2015, the 35-year-old businesswoman has become a fierce critic of Paul Kagame, the country's all-powerful president, and the ruling Rwandan Patriotic Front (RPF).
In May she announced her intention to run against him in the country's electionon 4 August. For this, she has paid a heavy price.
In her grand, heavily fortified home in the heart of Kigali, the Rwandan capital, the interview goes ahead after her adviser – a close friend – turns up safe.
"He didn't come home last night," she explains. A stranger had called the night before and asked him to come for a drink. "He said he could give him some publicity for his newspaper. And you know how it is here: if you're not part of the government, it's hard to get publicity."
He woke up the next day in a hotel room, his phone missing, remembering nothing from the previous night. "I'm used to it," Rwigara says. Her best friend disappeared last December after she started speaking out against Kagame and the RPF. He has still not reappeared. "That's life here. I'm just happy this one came back."
Rwigara's presidential bid was stillborn. On 7 July the National Electoral Commission barred her from standing on technical grounds, a move that came as little surprise to most. Kagame has ruled the country with an iron fist since sweeping to power after the genocide against Rwanda's Tutsi minority in 1994. Criticism is barely tolerated, and the history of the past 15 or so years is littered with the names of opponents silenced and dissenters muzzled. To that list Rwigara adds her father, a prominent Tutsi businessman known to have been close to the RPF, at least early on.
The US-educated Rwigara publicly accused the government of foul play after her father died in a road accident, contacting foreign embassies in Kigali and international human rights organisations, as well as petitioning the president. Many question the allegation, but there has been no official investigation. It is the family's word against that of the police.
Rwigara's thwarted candidacy was a brief flash of colour in the otherwise drab landscape of contemporary Rwandan politics. Kagame's re-election is so certain that he himself claimed victory on the first day of campaigning, citing the overwhelming verdict of a controversial constitutional referendum in 2015 that permitted him to stand for a third term.
The proposed changes passed with a thumping 98% majority. "Pretending not to know the will expressed by the people during the referendum would be a lie, not democracy," he told cheering crowds at a rally.
But Rwigara exposed cracks in the RPF's confident facade. Most doubt that she would have been a significant electoral threat, but the lengths to which the authorities went to frustrate her – she claims her supporters were repeatedly threatened, beaten and jailed as they toured the country drumming up support – suggested a nervousness that belied Kagame's breezy rhetoric.
"The RPF are scared," Rwigara says. "If they are loved by the people, as they claim, why is that when someone like me announces an intention to run they resort to all these dirty tricks to try to discourage me and silence me? If they were really popular, then they would have let me compete."
Many in Kigali agree. "Every week that she is not in trouble is progress," confides one foreign diplomat. "She, not the official opposition, is the ultimate test for them."
Rwigara represents young, prosperous urbanites who grew up under the RPF and whom it sees as essential to the country's future. The busloads of young Rwandans who arrived to watch her announce her candidacy, and her packed press conferences, unnerved Kagame and his allies, according to insiders. Nude photos, apparently of her, soon flooded the internet – assumed to be a well-orchestrated smear.
She believes her fearlessness in speaking out is a headache for the RPF, which fastidiously cultivates a rosy image of Rwanda for the outside world. "Rwanda is like a very pretty girl with a lot of makeup," she says. "Perfect teeth, perfect hair, perfect everything. They spend so much time on the image because they know the inside is dark and dirty."
Since her candidacy failed, Rwigara has launched what she calls a "movement" to challenge the regime on its human rights record. While her political awakening could be attributed to her father's death, she makes allegations that go beyond personal grievance. Nobody else inside Rwanda has spoken more frankly about the extrajudicial assassinations that exiled critics and international organisations such as Human Rights Watch claim the government frequently carries out against its enemies.
"Everybody knows somebody who has disappeared, who has been killed," Rwigara says. "The personal doctor of the president and an army major both died in the same week as my father. And those are the well-known people. You don't hear about the other people."
Yet she is also a former insider, and her candidacy could be seen as evidence of emerging fractures within the Tutsi elite who dominate politics and business. The government has made enemies of some of its natural supporters, such as the Rwigara family. After her father's death, the family's properties in central Kigali were seized and their hotel demolished.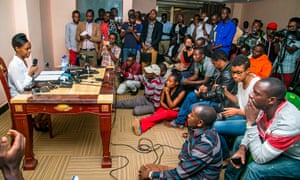 If she makes an unlikely spokesperson for the poor farmers who make up the majority of Rwandans, she may be more persuasive as an advocate for women. Kagame is something of a "donor darling" for his commitment to gender equality – half of the supreme court judges are women, and the country's parliament is 61% female, the highest proportion in the world – but Rwigara dismisses such headline achievements as window-dressing.
"So what if Rwanda has the highest percentage of women in parliament? It's really just part of the image. Because what do these women do?" she asks.
She says the parliament is little more than a rubber-stamp. There are women in senior positions in government, but none wield real power. And despite its impressive strides, academics have questioned the substance of Rwanda's gender-equality drive, especially for unmarried women.
Rwigara doesn't see her gender as a hindrance. "They used my being a woman to get to me," she says. "But even if I'd been a man they'd have found other ways." In fact, it was her family that had the problem with the idea of women in politics. "Growing up I remember my family members – my mum and my aunt – saying that a girl should not have a political opinion; that a girl should not be politically active. It took me a while to make peace with being a girl who likes politics."
Is Rwanda ready for a female president? "I think Rwandans themselves are," she answers. "Because if the regime thought the people would not listen to me because I'm a woman, then they would not have tried to find all these ways to stop me."
She says she doesn't fear for her life. "Not for the moment. They know killing me will make too much noise. It's harder to kill you once you are known, once you've been seen."
Source: The Guardian